Food and Nutrition Services
Children need healthy meals to learn. Page Unified School District will be participating inthe National School Lunch Program and the School Breakfast Program. As part of this program, Lake View Primary, Desert View Intermediate, Page Middle School and Manson Mesa High School will offer healthy meals every school day at NO COST to the students due to the implementation of the Community Eligibility Provision for school year 2021-2022. Students will be able to participate in these meal programs without having to pay a fee or submit a household application.
Page Unified School District #8 is happy to continue the Breakfast in the Classroom program for Preschool through 8th grade students. All students will have the opportunity to eat breakfast with their classmates in the classroom. The new program replaces our current breakfast service.
What is Breakfast in the Classroom?
Breakfast is eaten in the classroom every school day.

Breakfast is served the first 10 minutes of class.
Participation is voluntary. No further action is required from parents or guardians.
Curious about what your kids is eating at school?

Click the link to see the District's menus.
______________________________________________________________________________________________________________________________________
To provide nutritious meals to students and staff at a reasonable price.
Commitment to provide quality meals to students & staff

Provide professional development opportunities for employees
Commitment to fiscal responsibility (maintain self-funding)
Nutrition Education for students
To provide the best customer service possible to students, staff and parents
To keep abreast of legislative issues at the national and state level that affect child nutrition programs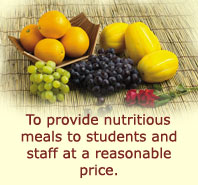 New pricing below is effective July 1, 2022.

Breakfast:

All students eat free.
Adults and non-PUSD students: $3.00

Lunch:

All students eat free.
Adults and non-PUSD students: $4.85
Milk / Juice prices: $ .60
PUSD has partnered with Nutrislice, a company that specializes in technology involving simplifying menus and nutritional services, to make accessing your school menus and other nutritional information easier. To view your school's menu information on the Nutrislice page, click here.
Please make checks payable to PAGE SCHOOL CAFETERIA, to insure your check is credited to the proper account, please put child's name in memo. Due to the increase of insufficient funds checks, checks will only be accepted for Cafeteria purchases. DO NOT combine payment of book sales, picture payments with Lunch/Breakfast Ticket Sales. Checks are required to have:

Drivers License Number

Current Phone Number

Mailing Address

A returned check fee of $30.00 will be charged on each returned check.

As always, cash is accepted.

A copy of our Meal Charge Policy can also be found here.
Tired of sending cash with your child every day for their school meals? Page Unified School District now has the ability to accept credit card payments at mySchoolBucks. It is a quick and convenient way to pay for your children's meals and not have to worry about them losing or spending their lunch money on something else. There is no limit to the amount of money you can add. However, convenience does come with a price - a $2.49 service charge per transaction is added to the total bill. That's how the company can provide the service at no charge to our school district.
The website accepts Visa, Master Card, American Express, and Discover. Page Unified School District still accepts cash or check payments at the school if you prefer not to use your credit card. (Information needed includes name of school your student attends and his/her identification number.)