Safety is the top priority as we strive to carry out the duties and responsibilities related to district transportation. This department supports all district transportation needs ranging from busing students to and from school each day, providing special needs transportation, accommodating all extracurricular and activity trip busing needs, and providing vehicles for employees to attend workshops and conferences.

All School Bus drivers possess a Commercial Drivers License and pass the State Bus Driver Certification. The transportation department is proud of its safety record and years of service it has provided for the Page and surrounding communities.

Like us on Facebook at Big Yellow Bus-Page Unified School District #8

School bus route general information may be found under the Document tab, please call 928-608-4131 for specific information
Tranportation Team Contacts
After Hours Contact Number
928-640-2740
General Questions
Send Email Helene Nockideneh Transportation Director P: 928-608-4121

Bus Routes & Driver Training Certification
Send Email Helene Nockideneh Trans. Admin. - Third Party Tester P: 928-608-4131

Driver Trainers
Send Email Jack Lezat P:928-608-4118
jmartin@pageud.org Jeanita Martin
gthompson@pageud.org Glennda Thompson

Parts Procurement
Position Open

Vehicle Maintenance
Jack Lezat
Harrison Gorman
Dennison Barney
After Hours
Send Email Helene Nockideneh Transportation Director P: 928-640-2740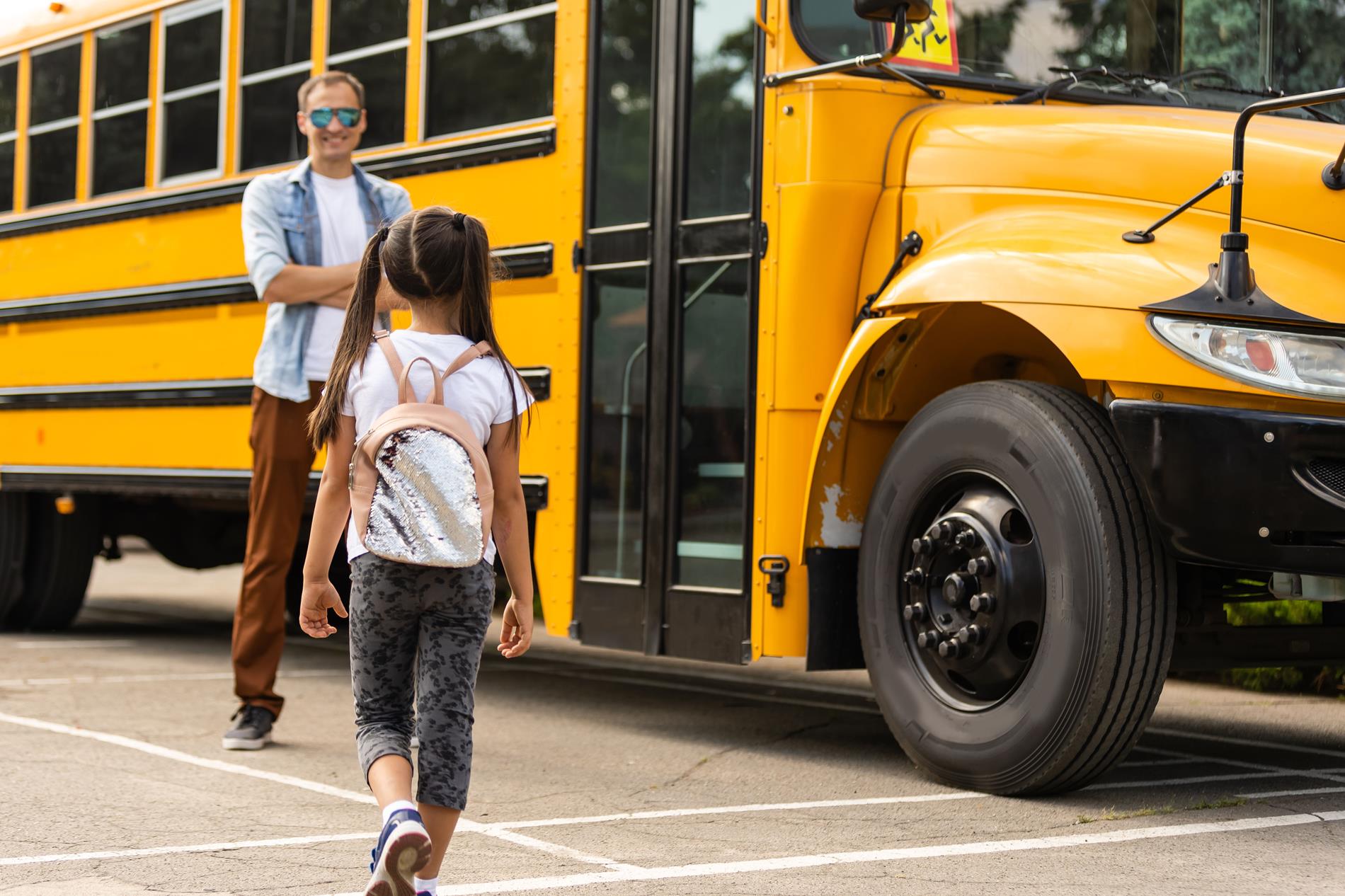 Our mission is to provide safe, efficient, and service oriented transportation for the students, staff, and employees of the Page Unified School District
Arizona Department of Public Safety -R17-4-507-Minimum standards for school bus operation, Section D- Authority of school bus drivers, "The driver of a school bus is responsible for the orderly conduct and safety of pupils and other passengers being transported in accordance with the policy established by the governing board of the district." All adult passengers such as coaches, teachers, monitors, etc. are also under the authority of the school bus driver.
The following are good safety habits which must be used when riding a school bus. These rules apply to field trips and sports trips as well as transportation to and from school.
Please take time to review rules by clicking on the link to the right and review them with your child.
AREA 1
2017-2018
AREAS SERVED: HIGHWAY 98 TO KAIBETO,
CROSSROADS, INSCRIPTION HOUSE AND COUNTY LINE
ROUTE #
1-
INSCRIPTION HOUSE/N16 ONLY
2-
HIGHWAY 98, 350 351.5 COUNTY LINE, 1.5 MILES N OF CROSSROADS N16 ROUTE 1 OVERLOAD,
AM ONLY , AND CROSSROADS MARKET
6
- HIGHWAY 98 MP336.1, 336.1, 337.4, 338.4, 339.9, 344.2, 345.8, 346.1, 347
CROSSROADS MARKET, MP347, 345.8, 344.2, 341, 340, 336.7, 334
3-
LOWER KAIBETO, WILLOW SPRINGS HOUSING AND KAIBETO CHAPTER HOUSE AREAS
4-
ALL STOPS FROM NHA RENTALS, RODEO GROUND SOUTH SIDE OF NHA HOUSING TO WILLOW
TREE TOWARDS TONALEA - ROUTE 21
5-
NEW NHA HOUSING JUST DOWN FROM RENTALS
6.5
- AM KAIBETO MARKET-ROUTE 5/PM- ROUTE 4 PICK UP AT PHS, (PM) ROUTE 5 PICK UP AT PMS,
(PM) ROUTE 7 PICK UP AT DV-LV
7-
BIA GATE, WATER TOWER AND STOPS TO THE HENRY'S TOWARDS GAP (N 21) MP330-MP 302
AREA 2
AREAS SERVED : UTAH TRANSFERS (HS ONLY), GREENHAVEN, WAHWEAP, VERMILLION VIEW
APARTMENTS, RANCHETTES: MORGAN, PALOMINO, APPALOOSA (ONLY), LECHEE,
ALL STOPS NORTH TO BLACK'S AND LISTER'S
ROUTE #
8
- UTAH TRANSFERS (HS ONLY), GREENHAVEN, WAHWEAP, ADOT TRAILER PARK,
VERMILLION VIEW APARTMENTS, RANCHETTES: MORGAN, PALOMINO, APPOLOOSA (ONLY)
10
- INDUSTRIAL DRIVE, AND CLIFFVIEW HOUSING, BLACK'S, LISTER'S
11 -AM/PM -TSO'S (ALSO CALLED ALLISONS') TRAILER PARK, AND THE NEXT 2 STOPS
12- AM/PM GLORIA'S AND THE NEXT 2 STOPS
AREA 3
AREAS SERVED: HIGHWAY 89 TO PORCUPINE MESA-COPPERMINE CHAPTER HOUSE, BITTER
SPRINGS, CEDAR RIDGE
STOPS ALONG COPPERMINE ROAD (NO LECHEE STOPS) OUT PAST FIRST WINDMILL TO GAP
HIGHWAY 89A TO MARBLE CANYON, NAVAJO SPRINGS HOUSING,
WHISPERING SANDS APARTMENTS (PAGE)
ROUTE #
14-
HIGHWAY 89 MP 507.1, 506.8, 506.5, 505.2
(OLD CEDAR RIDGE TRADING POST), 505, 504.7, 504.5, 504, FIRST WINDMILL,
MP 4, SECOND WINDMILL, BAPTIST CHURCH, STOPS ALONG
COPPERMINE TO PAGE (EXCEPT COPPERMINE CHAPTER HOUSE) BEHIND LECHEE CHAPTER HOUSE
15-
HIGHWAY 89 MP 512.3, 515.2, 517.5, 519.9, 520.5, 522, 523 BITTER SPRINGS HOUSING
518, 515, 513.3, 511.3, 511, 510.8, 507.5
17-
HIGHWAY 89A, NAVAJO SPRINGS, MARBLE CANYON (IF NEEDED), HIGHWAY 89A MP 532, 534 (TURNAROUND)
533, 525, 524, 3 STOPS IN BITTER SPRINGS HOUSING
18-
PORCUPINE MESA - COPPERMINE CHAPTER HOUSE TURN AROUND…STOP 1, 3, 3.3, 3.7, 6.5,
AND 8 MILES WEST OF COPPERMINE CHAPTER HOUSE, HIGHWAY 89, MP 530, 532, 534, 536,
WHISPERING SANDS APARTMENTS
"2018 ROUTE KEY"